Become a Certified Bible Leader
Start Today! 100% Free!
2 Easy Steps:
Watch the videos or listen below (9 lessons = 1 hour)

Email, WhatsApp, or Facebook message us to get your beginner course certificate
That's it! Get Started Now!
Watch or Listen to the Lessons Now!
Audio 1 Spiritual Healing
Testimonials
---
I am from southern part of Africa in the North Western part of Botswana. I found TELL on Facebook and wanted to learn online Bible Training to be equipped to help others find the word of God. As a fallen Christian leader who refuses to quit,  the teachings sent to me by Pastor Dan brought me great change and hope again in my life. I am now ready to learn more and share with others. This is a great program and may the good Lord continue to use you.
Joseph Mohoko Mateusa
---
I am a Nigerian from Plateau state. Since I encounter TELL Facebook my life has not been the same because of the love and encouragement I have received from Pastor Dan Laitinen at TELL. God has finally answered my prayers because I have the zeal to work for Jesus. I  have decided to commit myself in saving and winning souls for Jesus, my saviour. And, I believe with TELL it will be much  easier for me to reach out to the whole world. 
Ann Simi Dung
---
Become a Certified Leader
---
Five reasons to become a certified leader:
1. You can easily grow in your knowledge of the Bible. TELL is available anytime online.
2. You will be trained to be a disciple of Jesus using free training and resources. TELL is always free.
3. You will learn directly from the bible-nothing added, nothing taken away. TELL is real gospel training.

4. You will gather a group and lead your own bible study. TELL pastors will support you as you learn to lead. 
5. You can choose to continue, or leave our free bible study at anytime. TELL is flexible. 
Complete three beginner courses and receive a certificate for each course completed. Then sign up for live classes to continue the TELL training program. 
TRUTH BRINGS PEACE!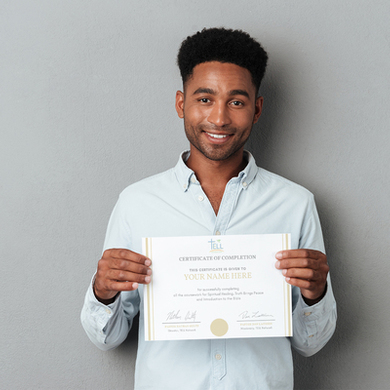 Questions?
---
How can I teach others God's word?
As a believer you are forgiven. "For God so loved the world that he gave his one and only Son, that whoever believes in him shall not perish but have eternal life." (John 3:16) If you are here, you want to share the gift of forgiveness with everyone you know. We'll show you how.
​
Can I take this course if I have never read the Bible?
Yes! We believe that Christ's love is our calling. We confess, that is, we believe and affirm, that the Bible is powerful and that through it we know God and for that reason, our first goal is to encourage all people to read and study the Bible for themselves and share it with others.
​
What  happens when I complete the program?
You will receive a certificate of completion and ongoing support as you lead your own group.
​
Have another question?
Email us here: ask@tellnetwork.org